Anne M. Fabricius, DMD, FACP
Licensed Specialist – Prosthodontics
Education & Academics:
Northwestern University
BA, Biological Sciences, cum laude
Harvard School of Dental Medicine
Doctor of Dental Medicine
University of Illinois at Chicago
Certificate in Prosthodontics
Former Clinical Assistant Professor, University of Illinios at Chicago
Department of Restorative Dentistry
Dr. Anne Fabricius is dedicated to providing her patients with customized high quality complete dental care. She offers her patients unique solutions that only a specialist can provide. Her additional three years of advanced training in prosthodontics gives her a mastery of the art and science of dentistry. Her goal is to provide beautiful, long-lasting and comfortable dental care for her patients.
Dr. Anne Fabricius is a specialist in the repair and restoration of teeth and replacement of missing teeth. Dr. Fabricius has three years of advanced training beyond dental school and has successfully passed an extensive written and clinical examination to achieve board-certification status in her specialty. This exam is administered by the American Board of Prosthodontics.
Dr. Fabricius enjoys teaching. She has been involved in teaching the partial denture, complete denture, and dental implant courses at the University of Illinois at Chicago. She maintains memberships to several study clubs.
In her spare time, Dr. Fabricius enjoys climbing mountains.
Memberships:
Diplomate, American Board of Prosthodontics
Fellow, American College of Prosthodontics
---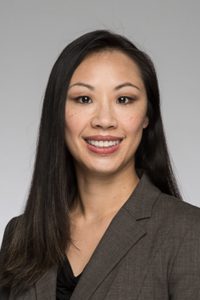 Stephanie Tsai, DMD
Licensed General Dentist
Education & Academics:
Loyola University
BS, Biochemistry, cum laude
Boston University School of Dentistry
Doctor of Dental Medicine
Dr. Stephanie Tsai, an Oak Park native, received her undergraduate degree from Loyola University in Chicago and then graduated with her D.M.D. from the Boston University School of Dentistry. Dr. Tsai completed her residency at Rush University Medical Center. While there, she focused on a range of specialties, including treating medically compromised patients, pediatrics, cosmetic dentistry, and an oral surgery rotation at John H Stroger Jr. Hospital of Cook County.
Dr. Tsai continued to work at Dental Group Ltd within Rush University Medical Center following her residency program. From there she joined TCA Health Inc, a community health center in Chicago, where she provided comprehensive treatment and served as Dental Director.
Prior to joining Oak Park Prosthodontics, Dr. Tsai worked within other general and pediatrics dental practices. Dr. Tsai relies on her broad training and experience to offer comprehensive care in a comfortable and friendly environment. Dr. Tsai has extensive experience working with children to provide quality treatments and pleasant visits.
Memberships:
Member, American Dental Association
Member, Chicago Dental Society
Member, Illinois State Dental Society
---
Gabi
Licensed Dental Hygienist
---
Pat
Licensed Dental Hygienist
---
Jessica
Practice Manager
---
Rocio
Dental Assistant
---
Tony
Front Desk & Dental Assistant